Follow @brew_brothers
HOURS: Monday - Friday, 10:30 AM to 7:00 PM; Saturday, 10 AM to 5 PM; Sunday, noon to 5 PM

For our online customers, please keep in mind that we're located in the Pacific Time Zone (Hillsboro, Oregon).

If you do call before/after business hours & we don't pick up, please leave a message...we'll return your call ASAP. We do respond to brew emergencies!
BREAKING NEWS:
WE WON! FOURTH YEAR IN A ROW: We won the Northwest Brewing News Readers' Choice Award for Best Homebrew Shop in Oregon! Thanks to everyone who voted for us.

MORE BREWFRESH RECIPE KITS FOR YOU! We expanded available recipe kits from 16 to over 40. Every kit is tried and true (some are recipes brewed by Three Mugs Brewing Company).

Each kit is assembled to order and guaranteed fresh...most available in extract with steeping grains or all-grain kits.

Check 'em out: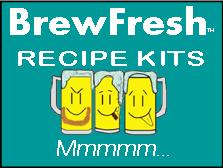 YOU CAN ORDER ON THE WEBSITE FOR LOCAL (PORTLAND METRO AREA) PICKUP OR DELIVERY: Did you know? We have "shipping" options at checkout that allow you to choose store pickup, home delivery or delivery at a scheduled Product Pickup Point (PPP). So, for example, if you're in a hurry and need to do a "drive by" to pick up supplies, you can use this convenient option to place your order, and we'll have it ready for you to pick up when you arrive (but please give us a call and let us know you've put in a store pickup order and give us at least and hour, preferably more, to prepare it for you). Check out all your options here.